Looking To Sell A Junk Car Fro Top Dollar?
Blog/ Looking To Sell A Junk Car Fro Top Dollar?
---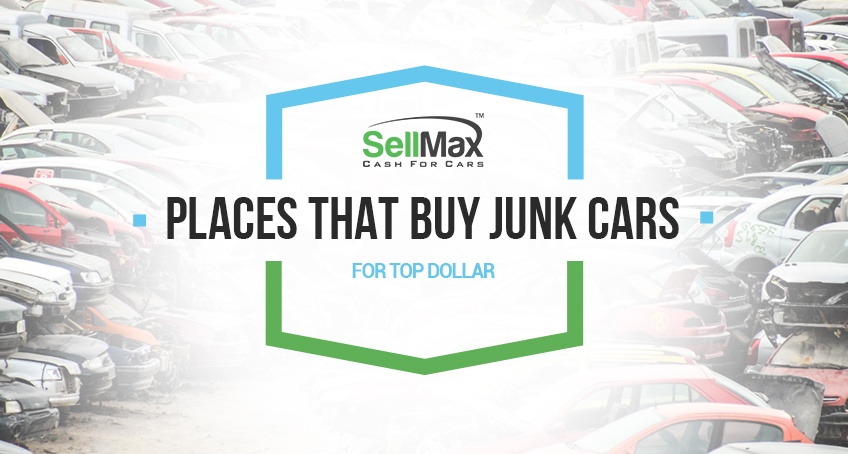 AuthorSarah RobinsonCategory Junk Cars
When your car is at its best, selling it for a good price is quite easy. For a junk car, you'd agree that it won't be that easy but there are still options for you to try out.
So, if you're looking for places that will pay top dollar for your junk car, you're in the right place.
We've put this article together to help you do that.
Sounds great? Awesome.
Let's get started…
How To Sell Your Junk Car For Top Dollar.
Sell Your Junk Car Yourself
We've already established at the beginning of this article that selling a junk car won't be as easy as a car that's still in perfect condition.
That doesn't mean you won't get buyers for your junk car. The difference would be in the number of people willing to buy it off you. There won't be so many.
Also, you should be ready to dedicate your time and in the end, you'll still have liability.
However, if you're looking at selling your junk car yourself. These are your options:
Sell Your Junk Car Online.
You can place an ad for your junk car on either Craigslist, eBay or any other online marketplace. Just bear in mind that each would have its challenges.
You're more likely to find buyers looking for junk cars here. Most of these buyers are looking to use your car as a source of parts or to have it refurbished.
These types of buyers won't be interested in paying top dollar for your junk car. They'd be looking to strike a good deal for themselves on it so that they can have more room to make some profit off it.
To make it easier to get a fair price on your junk car, you might need to fix it. You might not need to get it in perfect working condition but getting it to run or drive at least will increase your chances of getting top dollar for your junk car.
Now that we've mentioned fixing your junk car, would that be easy? No.
It's quite possible to spend a lot of money on it and unless your car is a luxury car, having it fixed won't make any financial sense.
Besides, why spend so much money on a junk car anyway?
If you don't mind leaving your junk car in your garage and waiting so long to find the right buyer who will pay top dollar for it, then you can go with this option.
Sell Your Junk Car For Cash Privately
Another option to look at would be to put an ad in the newspaper or leave your car parked on the driveway with a 'For Sale' sign on it.
This as well is time-consuming and even if a buyer comes along, what if the price offered is too low for you?
This leaves you with the headache of having to haggle prices and even if a common ground is reached, you've got the paperwork to worry about.
To successfully transfer the title to the buyer, you'd need to make sure you're doing it right as the laws differ from each state to the other.
If you're considering this option then you've got your work cut out for you. More like a tedious full-time job.
Sell Your Junk Car To The Junkyard.
You may ask, "What about places that buy junk cars for cash near me?"
In this case, you can consider selling it to a junkyard in your area. The work you'd do here would be to get as many as quotes as you can from different junkyards for you to compare.
Once you've found the best one, you can take your junk car to them. You're more likely to shoulder the costs of having your car towed to the junkyard and you might be lucky to find one that offers free junk car removal.
Sell Your Junk Car To A Car Dealership.
If you're considering a car dealership, you should be ready to buy another car from them too. It's more like a trade-in.
With this option, you're only going to end up with another car from the dealership [gotten with some extra cash added] and not money.
So, if you're after raw cash, a car dealership won't likely buy your junk car off you for cash. Even if you find one that's willing to, it's quite unlikely that you'd get top dollar for your junk car. Why?
Well, the short answer is…it won't be of much worth to them.
Break Up Your Junk Car Into Parts.
If there are just one or two things that took your car off the road or turned it into a junk car then that means the other parts would still be in a decent working condition.
Let's say you had an accident with it that made it a total loss but there are some working parts or you've got a blown engine then there's still an avenue to sell the car for parts.
You'll, however, have to invest a lot of time into taking out the parts of your junk car to sell them. You'll also have to compare prices from different dealers for car parts.
The car parts that are usually worth selling are the wing mirrors, CD/radio unit, wheels and tires, the center console, headlights and so on.
In the end, you're left with a car no one wants. Who wants a car with all the important parts gone?
Tip: When breaking up your junk car into parts, we advise you to steer clear of the steering wheel. It could be dangerous as the airbag can get inflated all of a sudden and leave you with injuries.
Sell Your Junk Car For Scrap.
You can make top dollar selling your junk car for its scrap metal. When you're looking to sell your car for scrap, the weight of your car in tons will be the determinant of the price you'd be offered.
So, if you've got a dead car on your hands with broken or worn out parts then selling it for its scrap metal might be your point of call.
If your junk car happens to be a truck or an old model then getting a top dollar off it will seem feasible. Old car models and trucks are heavier, hence this will work great for you.
But that won't rule out the fact that you're likely to get a low offer at the end of the day? How?
Well, you'll hear things like how they'll need to separate all the rubber and plastic and other materials. As these are all part of the scrapping price, don't be surprised if they keep the price low in the end.
Also, a scrapyard won't come to tow your junk car. We stated that some junkyards might offer those services but it's quite rare with a scrapyard.
You'll need to bear the costs and factor this cost into how much you're looking to make off scrapping your junk car.
The Cash for Clunkers Program.
We decided to mention this program just in case you're wondering if it's still in effect. If you've never heard about it, we'll talk about it briefly too.
The Cash for Clunkers Program initially started as the Cars Allowance Rebate System. It was a $3 billion funded program by the federal government designed to encourage people to exchange their old fuel-consuming cars for cash. With the money gotten, it was easier for them to buy new cars that had a better fuel economy.
Of course, a lot of car owners seized the opportunity but the funds got exhausted and the program ended.
However, certain parts of the United States still have the program in effect. If you live in California, the state renewed its Cash for Clunkers program and it's now called the vehicle retirement program. They did this to help make the environment free from toxic wastes from cars.
If you're lucky to have this program still in effect where you live then it's a better option than a junkyard if you want top dollar off your junk car.
Get Top Dollar From Car Collectors.
If your junk car is a rare model, a classic, a limited edition or just has something special about it, you might be lucky.
You have the option to sell it to a museum or a car collector. You're more likely to make top dollar off your special junk car from a car collector than a museum.
However, your car has to be special. Besides that, the chances are quite slim. You'd be looking at a 1 in 11,000 chance. We're pretty sure you're not after probabilities but something you can count on.
So, this is a rare not-so-likely option.
Where Else Can I Sell Junk Cars For Top Dollar Near Me?
If all the options we've listed look too time-consuming and stressful, it's because they are. You're likely to get good cash off your junk car but be ready to play the patience game.
If this doesn't sound like a plan then the best way to get a top dollar off your junk car without the hassle and long wait is to sell it to us at SellMax.
Why SellMax?
There are many reasons why.
First, we offer competitive offers for all kinds of cars. We're not picky so, selling your car in its current condition to us is just as easy as selling a nice car that still works perfectly.
Totaled car? Car won't run? Just name it and we will still tell you how much we want it. So, how does it work? It's quite simple.
All you've to do is see how much your junk car is worth using our totaled car value calculator. Here, you'll need to give us a few details about your car. We'll like to know your car year, model, location and shape. This will give our car experts enough information to give you a competitive offer.
We're great at math…so, an awesome offer will be generated for you immediately.
Will our offer change? There are no sudden changes to the offer you get from us.
Hidden costs? You don't have to worry about this because it doesn't exist when you're dealing with us. We make everything about us 100% transparent to gain and keep your trust.
If you like what we're offering you for your junk car, that's great. When you accept our offer, we'll set up a pick-up arrangement.
This pick-up is completely stress-free for you. We make sure it is and work with a date, time and venue that's comfortable for you.
Exactly. We come to you wherever you are. Your convenience is just as important as your trust. We don't joke with these.
Paperwork? We keep it very minimal.
Towing costs? We tow your car for free after we leave you with your cash of course. That's right, you get paid on the spot.
We also provide after-sale services just in case you've got any questions or there are any issues.
Sounds more like a plan? Awesome! We think so too. Wait no longer and get your online offer now.