What To Do With A Totaled Car: With Or Without Insurance.
Blog/ What To Do With A Totaled Car: With Or Without Insurance.
---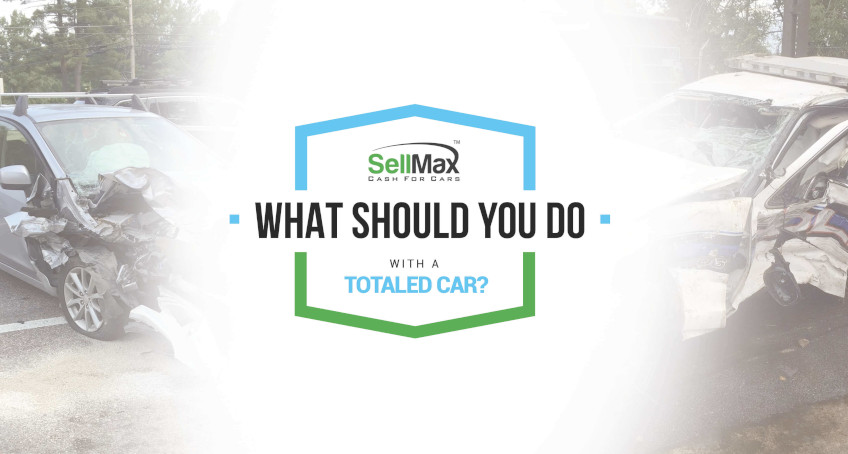 AuthorSarah RobinsonCategory Junk Cars
You're probably wondering what a totaled car means. Well, for your car to be totaled, it means it's wrecked from an accident and the cost to fix it would exceed its value. This will surely leave you in an upsetting situation as the thought of fixing it doesn't sound financially reasonable. So you ask, "What do I do with a totaled car?" Well, the good news is there are options to choose from when your car is completely totaled.
Below are the typical options when you have insurance…
Get Paid and Let Your Insurance Company Take the Car
If your car is insured, you can decide to get paid out by your insurance company and let them take the car. Every insurance company has its method for declaring a car 'totaled'. Hence, after an accident, an expert – known as an insurance adjuster – from your insurance company or of the driver at fault is sent to inspect the car to check whether it's totaled or fixable and to also determine its replacement value. The insurance company then writes you a check for what they've determined to be your car's market value or the repair costs. An old car costs more to fix than its value. So if your car is an old one, you're likely to be paid the market value of the car so that you can buy another car that's in a similar condition as your former car before it got totaled. So, if your $52,000 Mercedes Benz gets totaled, it makes a lot of financial sense to go down this lane by taking the insurance check and starting afresh. Get Paid and Keep the Car Let's say your car is worth $8,000 and the payout from your insurance company is valued at $6,000. You might want to fix your car instead especially if it can still be driven safely or towed to the body shop for repairs. If you have done the math, you can choose to get paid by your insurance company and keep the car. Here, they will pay you less since you are keeping the car. If your car is old, it's quite likely that getting the replacement value for it won't provide you with enough money to get a more reliable car. Therefore, going with this option is also smart. Although, this might mean you'll have to repair your car unless you don't mind still driving your car around even if it looks like a beat-up golf ball.
Fix The Car
Finding a body shop to fix your car can be expensive sometimes. It all depends on the extent of the damage done to your car. In this case, you should get several quotes as they'd greatly vary. It could cost you about $650 to fix something as simple as an almost invisible scratch and probably $5,000 to make your car's paint job look just right. If your totaled car is new and expensive, fixing it is more reasonable financially. This doesn't mean you have to give up if your car is old and gets totaled. Fixing your old car is still worth it if you can get it done cheaply enough.
What To Do With a Totaled Car When There's No Insurance?
If you don't have insurance you're pretty much out of luck and probably feel you're at the end of the world. If this is you, here's what you can do:
Fix the Car on Your Own
In this case, it's up to you to decide if fixing your totaled car is worth it since all the repair costs would be from your pocket - no one will be bearing the costs for fixing your car. Even if the accident wasn't your fault, there isn't so much you can do since your car isn't insured unless you're willing to file a legal case against the other party. If you decide to sue the other party, you're likely to be battling against the lawyers for the other party's insurance company. Since you don't have an insurance provider to defend you, losing the case won't be a surprise and we believe adding legal fees to your car repair costs is the last thing you need. You may be lucky and your car - though totaled - is still good enough to move around for a while. Well, this could buy you some time to make a good decision but bear in mind that this bought time won't last long as your car probably won't pass when you need to get a state inspection.
Don't want this? Then this is your best bet:
Sell Your Totaled Car. You can sell your totaled car for parts on your own to help you gain back at least some of its value. With the money gotten, you could put it aside for another car, or if the accident was your fault, use to pay for damages. There could be a little challenge here, which is finding someone on your own to buy your totaled car from you or even getting an accurate price when you search "totaled value of my car" online. Also, selling your totaled car to the junkyard for scrap value will only fetch you money based on your car's weight as all they care about is its scrap metal. Plus, you'll have to pay to get it towed there. Now you ask again, "So, what do I do with my totaled car when I have no insurance?" Simple! Sell it to us at SellMax. At SellMax, we specialize in buying junk cars in any condition even if they're totaled. All you've to do is give us some details about your car and we'll give you an awesome quote. If you like our offer, we'd schedule a pick-up date that works for you to pick up your car at no cost and you'd get paid instantly. Life can't get any easier than this, right? Get your offer now and see what your car is worth.