How to Sell Your Car for Parts - Everything You'll Need To Know.
Blog/ How to Sell Your Car for Parts - Everything You'll Need To Know.
---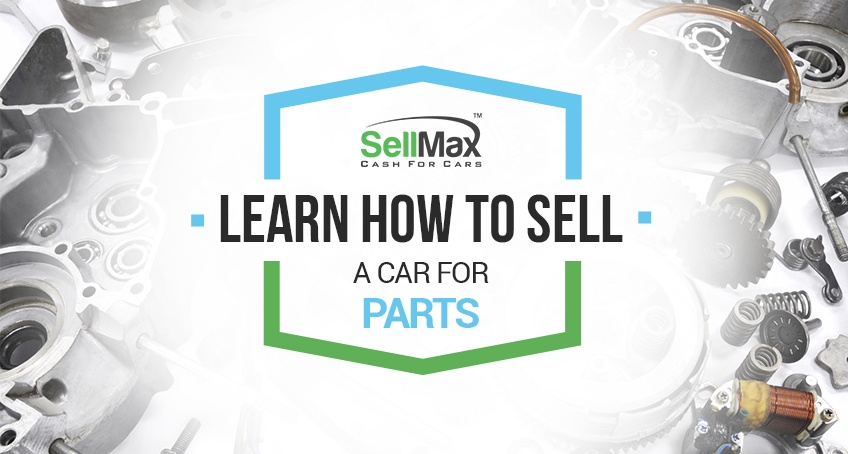 AuthorSarah RobinsonCategory How To
Many people avoid selling their car for parts just because they don't know how to do it. Selling your car parts may actually be a really fruitful way for you to make the most money off your car, especially if you were going to just junk it anyway. This page will be the perfect guide for you to learn how to sell your car for parts and decide if this is the right option for you. Here are some quick and easy steps on how to sell your car for parts:
Get your car checked out
Take your car to your local mechanic or auto shop. Having a mechanic look at your vehicle will give you a better idea of what works and what doesn't work. This way, you can find out which parts are good enough to sell.
The mechanic who looks at your car may tell you that your car is actually still functional and in fair condition. In this case, your journey in scrapping your car may end here and you can look for a different kind of buyer who is looking to buy your car whole. On the other hand, the mechanic may give you a mixed assessment of the parts that you have: some will be in good enough condition to sell and some you will just have to scrap.
Take Inventory
Once you've got your parts assessed, take inventory. Stripping and scrapping a car takes a lot of time and energy. Decide which parts are going to be worth your time to scrap and sell. There are some parts that can be easier to sell like the engine and the transmission (as long as it doesn't have a lot of miles on it). Electronic parts like the radio, HVAC controls, CD dash, subwoofer/speakers are also usually easy to sell off because people are generally looking to upgrade their parts and they're easy to replace.
Mechanical parts can be especially lucrative because it's generally easier to buy them used than brand-new. For example, replacing a head gasket can cost more than $2000 to buy new, so a potential buyer would be better off buying it used. However, there are also many parts that people would not be willing to buy used, such as a spark plug or a fan-belt because brand-new ones aren't that expensive to begin with.
Reach out to potential buyers
So you've got your car checked out and you know which of your parts are worth selling and which can be scrapped. Now you have to reach out to find people who will take the parts off your hands. This will likely be the most time-intensive part of this process. You can do this a couple of different ways:
Find local salvage yards
This is the most hands-off way to sell your parts. The salvage yard will take your car and all of its parts and do all the dirty work for you. All you have to do is make a quick Google search to find the salvage yards that are local to you. You might have even already done this during step 1. This may be a good option for you if want to get rid of your car parts quickly.
Find private buyers
There are many private buyers that are willing to buy your parts but this is a process that requires a little bit more resourcefulness from you. There are many buyers that are easily accessible now online on eBay, Craigslist, and even Facebook Marketplace. If you want to go independent and sell your parts by yourself, here are some good tips to follow:
Take good pictures of your items. Your bidders want to know exactly what they are getting for their money, flaws and all. Make sure you are using a neutral background against the parts with lots of lighting. Using a light background against darker parts and dark background against lighter parts will help the parts stand out clearly.
For buyers who are not local, make sure you factor in the cost of shipping parts. This includes buying boxes and calculating shipping rates based on weight and distance.
If you're on a time crunch, sell the few more expensive parts that will sell easier and give the rest to a salvage yard.
Do your research and see how much other people are selling their parts for. Compare and contrast your prices with theirs, but also the level of qualities. Set realistic prices that matches what you're listing.
Be prepared to deal with people, haggling, and any potential conflicts that may arise.
Test your parts to make sure that they are actually functioning before you list them online. Or at least be honest and let your potential buyers know they have not been tested.
What are your other options?
As you may understand now, choosing to sort through and sell your car for parts can take a lot of your time and energy. It requires you to reach out to many people, find out what exactly is under the hood of your car, and possibly sort it out and package it up yourself to send to potential buyers all over the country.
Now if just want to sell your junk car whole and avoid going through the trouble of scrapping it, you can do this quickly through SellMax. SellMax will take a look at your car, give you a quote, and take it off your hands usually all on the same day. You'll get paid up front and we'll make things easier for you.
SellMax has been up and running since 1990 and was founded by a group of people who knew what they were doing about their cars. They started this simple cash-for-cars company model and now there are locations in almost every state in America. SellMax will make your car-selling experience short and simple. Feel free to contact us at (800) 225-7500 or get a quote through our online form. But whatever you choose to do with your car, you have a variety of options and we hope this guide has helped you make the best choice.