Does CarMax Buy Cars With Over 100,000 Miles?
Blog/ Does CarMax Buy Cars With Over 100,000 Miles?
---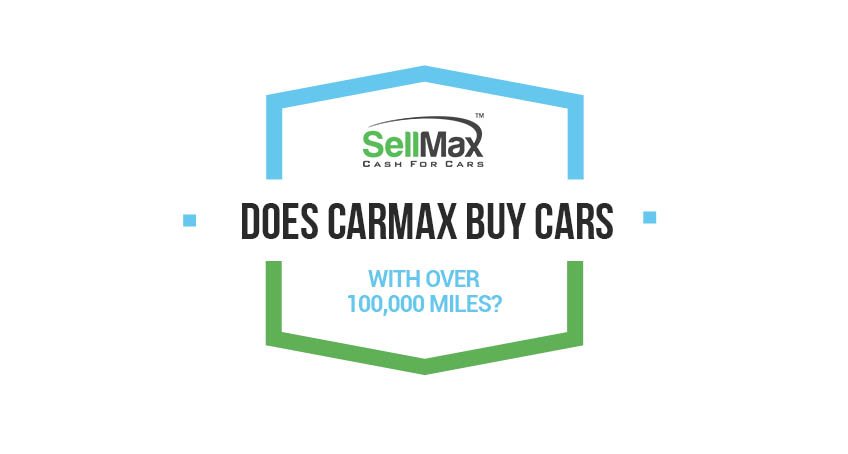 AuthorSarah RobinsonCategory Car Advice
The Answer: Yes, CarMax will buy your car with over 100,000 miles. However, getting quotes from multiple companies who buy cars is a good idea.
You've probably thought about this question a lot. After all, 100,000 miles seems to be the end zone for most cars. Most people in the market for a used car are not in the market for something that's had that much driving done with it. The answer, surprisingly, is yes. CarMax does buy vehicles with over 100,000 miles on them. Generally, they do not buy these vehicles for resale, they are usually auctioned off or sold for parts.
Is Selling To CarMax A Good Option?
For car owners looking to make a quick sale on their vehicle, CarMax is a good choice for making the sale. The market value of the vehicle will generally be lower than what a seller can get on their own but by selling to CarMax a person can get a quick payout. The only caveat with selling to CarMax is that the seller must have all of the proper documentation and must submit to an appraisal before they are paid for the automobile.
Documentation can pose a problem for car sellers who wish to sell their vehicle with CarMax. The vehicle must have a valid and clear title and all persons on the title must be present to provide valid identification, as well as proper registration and other pertinent information. Sellers without this documentation would need to seek other options. However, for those with the documents, CarMax is a good option for fast a sale.
Many car buyers omit cars with over 100,000 miles on them when searching online for vehicles because of the amount of use and wear that is placed on a vehicle with that many miles. Some dealerships also will not sell vehicles with over 100,000 miles unless they are in impeccable shape. This dramatically shrinks the market for sellers of high mileage vehicles.
Because the market for vehicles with high mileage is so limited, selling to CarMax is also a good option for sellers who are looking to dispose of a vehicle or without worrying about profit. This is a good option for people who inherit older vehicles, or someone who has owned a vehicle for a long time. CarMax even has car lots where a seller can browse for a new vehicle when selling their old one. This can be a good option for those looking for a quick sell to into something new.
For sellers looking to make the most money possible, it would be better to attempt to sell the vehicle themselves either through online sales or selling to an individual. In these cases though, there is generally a lot of liability that goes with the sale. It is important to disclose all relevant information about the vehicle to the potential buyer.
This is one way that CarMax is a better option, they do the inspection themselves and determine the value based on that inspection and the probable value of the vehicle sold at auction. This will generally yield a much lower payout on the vehicle but is the faster and safer option over personal sale.
Are There Other Options?
There are a few options for selling a high mileage vehicle other than CarMax and selling it yourself. Some junkyards or scrapyards will pay a nominal fee for a vehicle to scrap it for parts or by weight of the vehicle. They generally will take any vehicle regardless of age or mileage but the amount of money offered for the vehicle will be very much below any fair market value.
Another option is to try and sell the vehicle through a used car dealership. Some dealerships will take high mileage vehicles so that they can be cleaned up for quick and cheap resale. Used car dealerships that buy high mileage vehicles will usually do so without any liability on the part of the seller but the trade off for this is that the price offered for the vehicle is often the bare minimum. This option could be considered when other options are not available.
SellMax Is A Great Option For Selling Your High Mileage Vehicle In A Variety Of Situations
For those sellers with a car with over 100,000 miles SellMax is a great alternative. SellMax specializes in older vehicles, damaged vehicles, used vehicles and broken or junk vehicles. SellMax also handles vehicles in a variety of scenarios. In some cases SellMax will purchase a vehicle without a title. This allows those sellers who no longer have a title or have an older vehicle with no title to still sell their vehicle without all the extra hassle.
Not only that, SellMax provides cash for junk cars with same day service. We will give you an offer right on our website and come to you. We even do free junk car removal and towing. We will make you an offer on your car, come out, pay you, and pick up your car all in the same day.