Sell My Broken-Down Car
Blog/ Sell My Broken-Down Car
---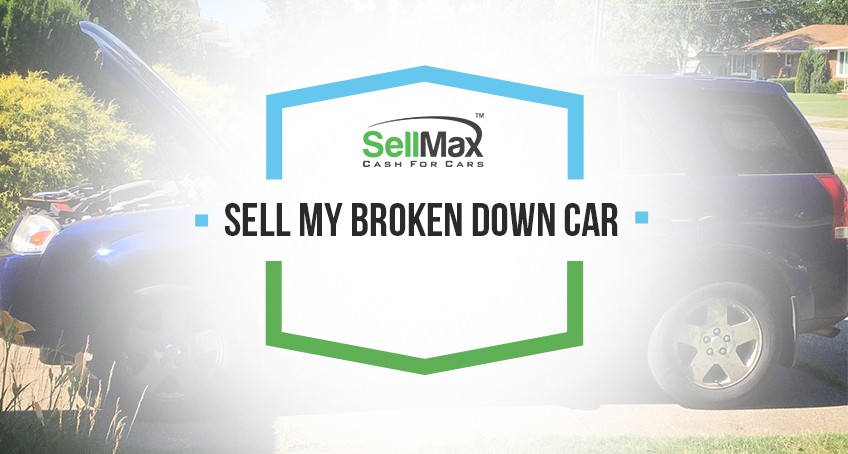 AuthorSarah RobinsonCategory Selling A Car
We all feel aches and pains as we get older, and our cars, unfortunately, aren't immune to that. Perhaps the car that looked so amazing when you got your license back in the day does more groaning and grinding now than actually going somewhere. Maybe it has been damaged in some way, whether from hail, from a fender-bender, or from the simple wear and tear that comes with an older vehicle. Or maybe, much to your dismay, your car doesn't even want to start now.
If you've got a car that matches that description, you may be wanting to sell that broken car for cash. But how do you get rid of a car that's damaged or one that doesn't run? Good news—you're not on your own with this one. SellMax specializes in buying broken-down cars for cash—we do it every day. If you're not sure if your car would be considered "broken-down" or if you're wondering how or where to sell your car, you're in the right place; keep reading to learn more.
What is a broken-down car?
If your car no longer starts, no longer runs, stalls out, or would require significant work to fix it, then it's considered broken-down. If a car breaks down or stalls, our first instinct is to get it fixed, but after a while, those repairs to keep it running may cost more than the car is actually worth.
Additionally, even if your car doesn't function or has significant damage to the body (e.g. dents bigger than a baseball, broken glass, missing tires) or the interior (e.g. ripped upholstery, missing airbags, etc.), you can still sell a damaged car or broken-down car for cash with SellMax.
Why would I want to sell a broken-down car?
The most basic reason to sell a car is that it simply may not be worth the cost to repair your older car. If you're looking at spending astronomical fees just to get that engine going again, it may be time to consider selling. Keep in mind that if you choose to sell, that cash can go back in your pocket instead of to a mechanic.
It's possible that your car isn't in such terrible shape, but you're ready to upgrade to something new (or new-to-you), or maybe you just don't want to keep dumping money into an older vehicle. After all, if you are spending more than the actual value of the car to keep it up and running, you may start to question if it's even still worth it.
Whatever the reason, if you have decided you're ready to move forward and sell that broken car for cash, you have three basic options for where to sell your broken car: a private party, a trade-in car at a dealer, or an offer from SellMax. Let's go through each of those options.
Why not just sell to a private party?
When you're selling an older, broken-down car, it's often not quite that simple. From placing an ad, to finding a reputable buyer, to dealing with scheduling conflicts with your buyer, selling a running car by yourself takes a lot of time, let alone one that is in less than stellar condition. Plus, most private buyers are just regular people, which means they may not want a broken car—they, just like you, need something that gets them where they need to go. In addition, it's not actually legal, in some states, to sell a broken-down car to a private party, so always be sure to check your local legislation. Keep in mind—SellMax is a legal, readily available option that is found nationwide.
Ok, so then why not trade in to a dealer?
Selling your car to get a discount on an upgrade may seem like a slam dunk, but that's not necessarily the case. Here's the bottom line—a dealership is not going to be able to resell a broken, old car. Not only that, but there's usually a very high overhead. Simply put, their cost of doing business (paying salaries, keeping the lights on, leasing the building, etc.) means they have less money they can offer you.
Because car dealerships have to spend money that they won't be able to recoup easily, they typically tend to pay incredibly little for a broken-down car. Even if your car doesn't look or work its best anymore, we at SellMax know you still deserve what it's worth.
Why is selling to SellMax is a better option?
Here at SellMax, we are a licensed dealership, but we don't operate the same way our competitors do. We started small paying cash for cars in San Diego 30 years ago, and reliable, courteous business is still our go-to today. To us, if the customer is happy, we're happy. Because of that we make it easy to get a quick quote for your car, broken or not, and we pay you what it's actually worth; there's no high overhead here.
Once you've gotten your obligation-free quote, the offer won't change, and there are never any hidden fees. We started our business to improve the car-selling experience, so we make sure there's nothing standing between you and selling your car.
What do I do when I'm ready to sell my car to SellMax?
Ready to sell? We make it easy—you can call us at 1-800-225-7500, or if you prefer to stay online, find out instantly the value of your car's quote here. After answering a few questions about your car, all you have to do is schedule a free, flexible pick-up time and location, whether your home, your place of work, or your dear Aunt Mabel's front yard. We will come to you, and we offer same-day pick-up in many cases. After we check it over and do some minimal paperwork, you get paid immediately! It's that easy. There's no hassle and no waiting around when you deal with SellMax.
Selling a broken, older car may have seemed daunting, but we're here for you. If you're wondering where you can sell your broken-down car, look here to find the SellMax nearest you. Check us out online or give us a call at 1-800-225-7500! It's that easy. It's that quick. Request your instant quote now.