Are you wondering how to sell a non running car? We'll Show You How.
Blog/ Are you wondering how to sell a non running car? We'll Show You How.
---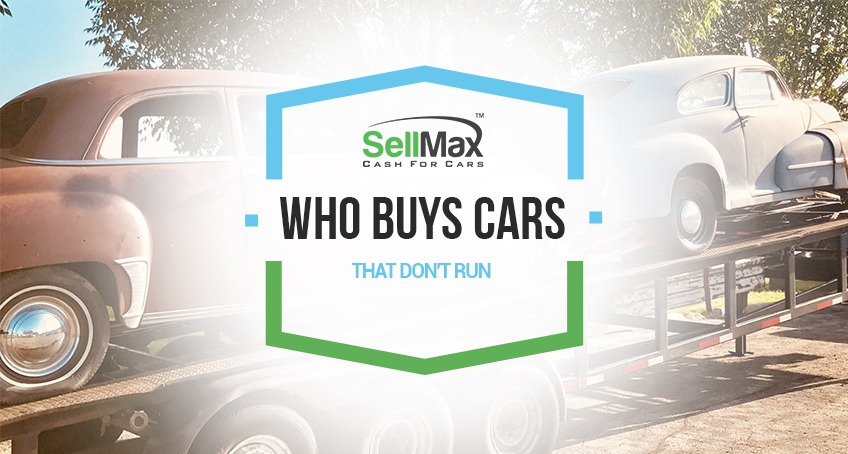 AuthorSarah RobinsonCategory Junk Cars
It's very easy to get attached to a car. Cars could easily become our best friends when we think of the different ways, they've come through for us.
Unfortunately, cars can't be as long-lasting as people are. They age quite fast and aren't usually the same after an accident. Even without an accident, time will pass, and your car gets worn out. The end.
As much as we all hate to admit, there will always be that time when we'll need to bid our cars farewell. When they stop running.
Selling a car that doesn't run is always so stressful to think about. You just can't help but ask "Who buys cars that don't run anymore?"
Well, if this is you, you're in the right place. In this article, we've listed the options available for you to compare and everything else you need to know about earning enough money in exchange for your non-running car.
Ready? Let's begin…
What To Do When Your Car No Longer Runs.
You'd agree that trying to sell a non-running car won't be as easy as when it's working perfectly. However, these are the few options for you to try when your car no longer runs:
Get You're Car Fixed.
If you're lucky, your car's problem might be fixable for a relatively decent price as long as you find the right repair shop that won't break your bank.
If you've done the math and realized that having your car fixed and selling it will yield more profit, then that's a good choice. These are worth repairing or replacing in your car:
Broken headlights.
Squeaky brakes.
Dead battery.
Damaged drive belts.
Replacing or repairing any of these won't exceed $1,500 and in the end, it might be worth your while.
When Fixing Your Car Is A Bad Idea.
When the costs of repairing your car exceed your car's current market value, having it fixed will be a terrible financial idea.
This could likely be the case if your car got into a terrible accident that totaled your car or it has serious engine problems that were not attended to immediately they started. These signs are but not limited to:
Grinding sounds coming from the manual or automatic transmission.
Smoke from the tail pipe which most likely means you have a bad headgasket. -Locked up transmission as a result of fluid leakages. -Shaky engine while driving and so on. A shaky engine means it'll probalby be a bad engine soon.
If the costs of fixing your car are too high for you then fixing it might be out of the option for you.
eBay and Craigslist Auctions.
Placing an ad online for your car is a basic option you can get started with. Who knows, you might find a lot of people interested in your non-running car.
Don't be surprised if they bid too low for your car though. Buyers on Craigslist, eBay and other classified ads are equally looking to make a profit, so they'll be looking to strike a good deal on your car.
If you're wondering how they intend to make a profit off it, most of them are out for the parts or looking to sell the car for scrap for more money.
If this option works for you then classified ads like Craigslist and eBay are good places that you can consider to place your ad.
Sell Your Non-running car to Car Dealers.
You can talk to the local car dealers in your area. If your car needs some repairs that can be fixed and will generate enough profit, some dealers will be willing to buy them off you. If your car is an old model, finding interested car dealers might prove a bit more difficult.
In the end, you won't still get as much as you should from car dealers. It's even worse when your car can't run at all, some won't even bother to talk to you about it.
It's also up to you to do your research on your car's actual value. You can do this by comparing and verifying from multiple sources as well as knowing how much the car costs in your area.
This means a Mercedes Benz in Los Angeles won't get or give you the same offer as a Mercedes Benz in Miami.
Once you get your car to a dealership, a visual and thorough inspection will be carried out. Reports on the numbers will be run and the car records will also be checked. This will be carried out by the salesperson.
Once the salesperson is done with his/her evaluation, you've got the service department next on the line. They'll also need to carry out their inspection.
Know what this means? It means you will have to bear the costs of towing your car to the dealership to have all these evaluations done with no guarantee of an offer at the end of the day.
Donating Your Car That Doesn't Run
Another option is to have your car donated. It's either you just want a free removal of your junk non-running car or you've got a charity organization you'd love to support.
Well, this won't give you any direct cash or payouts, but it affords you the chance to have your car's value removed from your taxes in future or at a later date.
This will earn you some additional cash…it's just not a quick way of getting cash as the rest.
To qualify for a charitable tax deduction, you'll need to have all these boxes ticked:
Pick a charity of your choice. You'll need to confirm that they're reputable and qualified by the IRS at least.
Before you donate, make sure you know how much the market value of your car is. You can always make use of reputable websites like Kelley Blue Book for this.
Next, you'll need to list the tax exemption on Schedule A of your 1040 tax forms. It can't exceed or be the same as half of your gross income.
When you're ready to get your tax deduction, you'll need to provide paperwork that will show that you've truly donated and your tax-deductible is worth $250 at least. You might not need to send in this paperwork, but you should keep it handy in case the IRS needs it for proof.
Part-out The Car Yourself.
You can part out the car yourself with the intent of removing the functioning parts. This is reffered to in the industry as "Selling Your Car For Parts"
If you're going with this option, you'll need to have a lot of patience, be ready to put in a lot of hard work, time plus have a place to store the car and the parts.
This option, in the end, seems to be the one that will fetch you more money but besides the hard work you've done to get these parts out, you'll still need to sell these to scrap yards or place ads for the parts. This is how you can make all the stress or work you've done worth it.
Here are a few tips if this option works for you:
Have your vehicle assessed: To know which parts are more viable, call on your car mechanic to carry out a thorough inspection. He will be able to tell you which parts are still good enough to fetch you a fair price and which parts are better off as scrap metal.
Advertise to private buyers: Advertise your car parts to private or individual buyers. This might take a bit more time and work as you'll need to keep track of all your negotiations and be responsible for removing the parts that you intend to sell as we've earlier explained.
But it's a great way to sell off most of the car's components especially after you've worked with all the junkyards in your area.
You can confirm the prices of the remaining working parts of your car online to get a good view or sense of how much the parts from your car will cost given their present conditions.
You can always sell what's left out of your car to a local junk yard near you for more payouts.
Scrap Yards and Junk Yards.
If you sell your car to the junkyard, they'd buy it off you to tear it apart. They then take these parts and have them resold to private parties or car repair shops.
Just like other buyers, a junkyard will also be looking for how to make a profit and if they feel they can't do so on your car, it's either they offer you an extremely low price or decide not to buy it at all.
Even if you won't make a high profit off junkyards you might be lucky to find one who will be willing to tow your car off you for free.
Selling your car for scrap to scrap yards is another option. The price offered will be based on how much your car weighs in tons as scrap yards are more interested in your car's scrap metal.
If your car happens to be an old model, then this should fetch you some decent payout.
Also, you should bear in mind that as far as scrap yards go, you'll need to know what your car is made out of. Most times, it'll be made out of steel.
Next, you'll need to look up the prices per scrap metal. Let's say the price per ton is $125.00 per ton.
That means if your car weighs around 4,000 lbs. [2 tons] then you should expect a payout of about $250.00 in scrap metal.
You'll need to factor in processing fees that the scrap yard will likely charge you and also the cost of towing your car to the scrap yard.
Don't be surprised if, after all these deductions, you don't have much left.
How To Trade-In Your Car For Cash Online When It No Longer Runs.
We know how difficult it can be to sell cars online…it takes up a lot of effort and time. First, you'll need to clean out your car, take nice pictures before registering with car websites to have it sold.
Then you'll have to deal with the headache of uploading the pictures, arranging the viewings and filling very complex forms. Only for you to get a buyer who wants to pay you too low or who won't show up at the last minute. Tragic, right? Absolutely.
We know and understand how frustrating this can be and we've got the ideal solution to all your non-running car problems…SellMax.
At SellMax, we've made the process of selling all kinds of cars – running or non-running – so fast and easy while keeping your convenience and ease in mind.
We take the most pride in giving you a competitive offer for your car even if it doesn't run anymore.
So, to answer the question you've been asking yourself about who buys cars that don't run, we're glad to let you know that we do!
Here's how it works:
Give us some details: First, tell us about your ride via our fill-out form. We just need a few details and we'll be all set. Once you're done with this, you'll get an instant offer right away. That's why we need the details we asked for, it helps us calculate your car's worth faster.
Accept the offer: Don't like the offer? There's no pressure at all. The offer remains unchanged just in case you decide to change your mind. If the offer works great for you, we take it from there and set the pick-up schedule with you.
Free towing: You don't need to worry about bringing the car to us. We'll come to you and have it towed away free of charge. Once you've picked a date that works for you, we'll come to you wherever you might be. All we'd do is to have a quick inspection and carry out some minimal paperwork.
The best part? You get paid on the spot. There are no hidden charges or stories. We make our processes as transparent, relaxing and time-saving as possible.
So, why wait anymore? Get your offer now with SellMax.