Sell My Truck
Blog/ Sell My Truck
---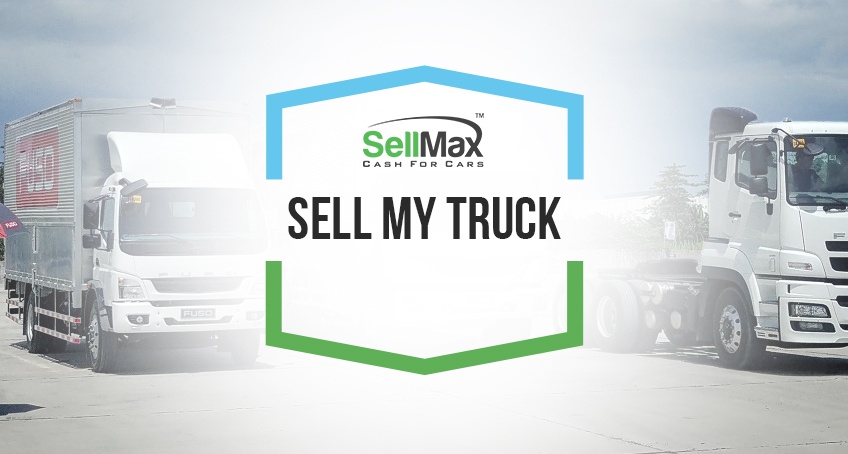 AuthorSarah RobinsonCategory Car Advice
So, your truck that you love so much gave out on you or is getting closer to its end. You can no longer use it for all your heavy-duty needs without being worried about when it could just stop working. That's not all. You've also done your bid… you've paid for transmission work and carried out the necessary maintenance it needs but it still keeps having problems and costing you more money than it's worth. If this sounds like you then it's time to sell your truck.
Now you ask, "How do I sell my truck for cash?"
Simple…sell to SellMax. As a truck user, we know time is money since you use your truck for business. Hence, the more time your truck can't be used to carry out business activities, the more money you lose.
At SellMax, your now junk truck is a treasure to us and we can't wait to take its worry off you while offering you a fair, competitive offer for it. Our goal is to save you time and money.
It doesn't matter what you use your truck for, you deserve a decent running truck nevertheless as it'll always be a vital part of your daily routine. That's why we've made our process as hassle-free as possible. All you need to do is to give us a call or fill our quick online form and you'll receive a quote.
What Is My Truck Worth?
When you're ready to sell your truck, the next question on your mind would be, "What's my truck worth?" Well, knowing your truck's worth is easy as there are many options for you to take advantage of.
You could compare your truck's make, model, mileage and year with other used trucks in your area for sale or check for used car values from other sources such as NADA.
However, if you're looking for a fast and easy way to get a fair quote on your truck then you can make use of our online junk car quote form. You'll receive an instant quote which you'll also find competitive as well when you compare with other values out there.
Our quote is free, we're not going to trick you into selling something before receiving the quote or force you to take it. It's obligation-free and you can walk away if you don't like it. We do our best to remain as transparent and honest as possible.
Why Should I Sell My Truck Online?
You could decide to put a 'For Sale' sign on your truck, put an ad in the newspapers or tell a few people but this would just take a lot of time. You could even decide to sell it for its parts but that's going to take a lot of time as well.
You also don't want to give your truck as it may be worth more than you think plus you need cash to get a better one ASAP so you can kick right back into your business.
If you're looking to get a fair offer on your truck and at a fast rate then you should sell your truck online. With that said, not every junk buyer online will offer you what you're looking for.
You need a buyer that will give you a fair quote and come to you to take the truck away in the most convenient and time-saving manner. Well, that's what we do at SellMax.
We've made selling your truck online to be very easy and from the comfort of your couch. So, as you ask yourself, "How can I sell my truck online?" You need to make sure you're selling your truck the best way.
We even buy trucks that have a blown engine and we'll also buy it for parts.
How to Sell My Truck Online.
After finding out how much your truck is worth, you should also know that selling it to us at SellMax is as fast, safe and easy as possible.
Here's How It Works:
Give Us Your Truck's Details: Tell us about your truck. We're interested in the model, its state, year, model and location. All these short but necessary details will give our vehicle experts the needed information in offering you the best offer. You can do this via our short online fill-out form. It's quick and easy.
Get Your Fair Offer: All you need to wait and it's not for long as you'll receive your fair instantly. We're great with calculations. So, right there on the spot, no matter the state of your beloved truck, you'll get an awesome quote for it. Remember that there's no pressure to accept the offer or fear that it would suddenly change. There's no room for hidden fees and all those nasty surprises that you get when you deal with unreliable third-party buyers.
Pick a Convenient Pick-up Time: Now you can see how much we value your comfort. You choose the time and place and we'll be on our way to you. Once we arrive, our experts will take a look at your truck, go through minimal paperwork with you and we'll be good to go.
Get Paid on The Spot: That's it…you get paid on the spot and we'll leave with your truck. Are you going to be paying for towing? No, that's on the house. We won't also tell you to wait for us to get back to you with your cash. We also won't charge you for anything. We might not be magicians but we're quite good at making your troubling truck disappear and leaving a stash of cash in its stead.
Customer Support: You can always contact us with your questions or concerns before, during and after the transaction. Our dedicated customer support team will always be willing to help on the other end.
With such an easy and hassle-free process, what else are you waiting for? Your truck won't be giving you so much money in its condition, Get Your Awesome Quote Right Away.
Know someone who needs to see this post? Be kind enough to SHARE!