Carvana vs. Vroom: Pros and Cons
Blog/ Carvana vs. Vroom: Pros and Cons
---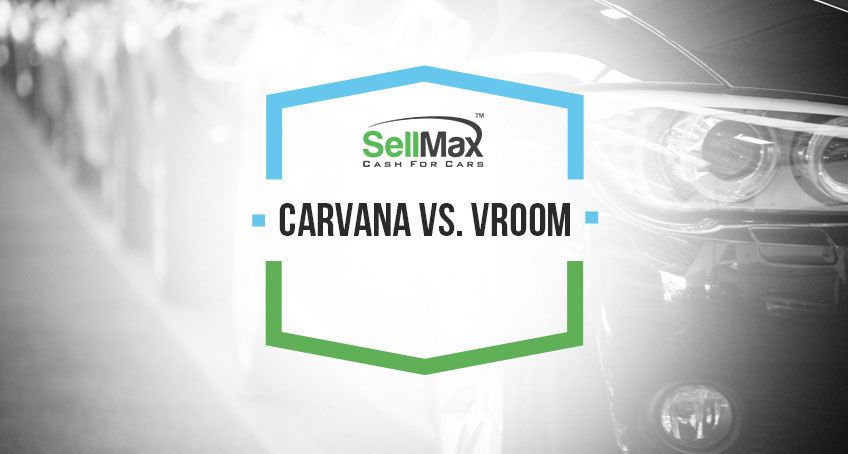 AuthorSarah RobinsonCategory Selling A Car
"What will it take to get you into this car today?" For many, the answer is not having to put pants on and leave the house.
Thanks to online car vendors, haggling with salesmen at your local dealership and taking chances with strangers in private sales are becoming distant memories that no one will miss. Instead you can buy or sell a used car from the comfort of your home.
But if you want the absolute best deal, quality and customer service for your used car, which online vendor should you choose?
Are Online Car Vendors Legit?
Carvana and Vroom provide online used car sales for the modern consumer. Both companies started in 2013 and offer vehicle delivery and pickup options. Nearly every part of the process is digitized, from uploading key documents to signing paperwork.
That means that unlike car dealerships or even CarMax, there's no need to go any farther than your own driveway. While that may sound too good to be true, both online vendors have been fully accredited by the Better Business Bureau for several years.
To help you get the best deal possible, we did the research on what it's like to buy and sell a car through both companies.
Purchasing A Used Car Through Carvana and Vroom
While the car purchasing process is fairly similar between Carvana and Vroom, there are a few important distinctions to note.
Vehicle Quality
No matter who you choose to go with, there will be some level of inspection and certification on all vehicles in the online inventories.
Carvana's inspection process ensures every vehicle has a clean title, no reported accidents and no reported fire, frame or flood damage.
Vroom's vehicles require the exact same certification standards (clean title, accident-free, frame and disaster damage-free) as well as some extra quality assurance measures. Vroom conducts additional safety, mechanical and cosmetic inspections and even offers a free CARFAX vehicle history report to every buyer for peace of mind.
Delivery
With Carvana, you can have your car delivered to your house for free if you live within one of their local markets, which are usually close to major U.S. cities. But you also have the option to head to one of their physical locations across the country where you can use their "car vending machines", inserting an oversized token to pick up your purchase.
Vroom's delivery service lacks the same sort of novelty, and it costs a non-refundable $599. Unless, that is, you're willing to head to their dealership location near Houston, Texas to pick up your vehicle in person.
Deals and Customer Service
To get the scoop, we read r/Cars and r/askcarsales testimonies from Reddit users who purchased from Carvana or Vroom. The general consensus was that online vendors regularly beat out CarMax and local dealerships.
Deals vary from person to person and usually depend on the current market value, but on average Carvana and Vroom are quite comparable to each other, even with Vroom's added delivery fees and smaller car inventory.
Where they do differ quite a bit is customer service. While a handful of Reddit users had negative experiences with Carvana, the vast majority of complaints were centered around Vroom's unhelpful customer service department.
Returns
Buying a car sight unseen can be nerve-wracking to some customers. But the return policy for both vendors can help to ease worry. With Carvana and Vroom, you can expect a 7-day Money Back Guarantee during which time you can exchange or return your vehicle back to the vendor, no sweat.
Many Reddit users have praised both companies for this, taking advantage of the policy if the car didn't quite live up to their expectations.
Selling A Used Car Through Carvana and Vroom
For those on the opposite end of the market, Carvana and Vroom have many important similarities and differences to consider.
Requirements
First, make sure your car qualifies for sale on both sites.
Carvana only takes cars newer than 1992 that have an odometer in working condition and the ability to safely perform a test drive.
Vroom's appraisal process is a little less transparent as you have to input your car's VIN and mileage before you can see if it's even eligible, but generally their standards seem in line with Carvana's.
Offer
Across r/Cars and r/usedcarsales, sellers agree that you can get thousands more from an online vendor than from CarMax. Because both companies are less than a decade old, Reddit users theorize that Carvana and Vroom offer high prices to gain new business. So while you could get a good offer today, tomorrow could be a different story.
Pickup
Similar to delivery options, Carvana pickup is free if you live in one of their local markets which are usually near major U.S. cities. Pickup with Vroom is free for all locations and will even allow you to select pickup spots besides your home if you so choose.
Payment
With Carvana, payment is basically the only element that's not digital. At your vehicle pick-up appointment, you'll receive a physical check for your offer amount.
Alternatively, Vroom sends electronic payment once they actually have the vehicle.
Several Reddit users on r/Cars have experienced receiving payment from Vroom many days after they were supposed to, raising stress levels in an already stressful situation.
Why It Pays To Keep Your Options Open
If you're selling your car, it's a smart idea to get quotes from multiple sources if you really want to get the best deal. Getting a quote from SellMax is a smart idea to make sure you're not getting lowballed for less than your car's actual value.
Get A Great Deal With SellMax
SellMax is known to pay well for vehicles of all makes, models and conditions with the same ease of an online vendor. If this sounds like the best option for you, you can contact us by filling out the form on our website or giving us a call for an instant offer of your car.