CarFax vs. AutoCheck. Show Me the What?
Blog/ CarFax vs. AutoCheck. Show Me the What?
---

AuthorSarah RobinsonCategory Car Advice
On average, a person buys 9 "new to them" cars in their lifetime. That's 9 chances to really mess up something big. Or, that's 9 incredible opportunities to score an awesome vehicle and get a fantastic deal.
The difference between the two scenarios above lies in the background work you do before purchasing. And it's just common knowledge that the only way you can get the valuable information you need is by accessing a vehicle credit report from CarFax or AutoCheck.
Wait a minute…
…there's another vehicle reporting company other than CarFax? There sure is. With CarFax's unforgettable marketing slogan, "Show me the CarFax," and the handsome little CarFox mascot ingrained in our brains, it seems obvious to always choose a CarFax report.
But, hold on. Sure, CarFax nailed its marketing strategy, but does the product live up to all the hype? And what can the company AutoCheck bring to the table that CarFax has overlooked? You are about to find out.
Give me the facts. ALL the facts
First of all, let's clarify that no vehicle credit report will capture every last detail. The information you see in those reports is only as accurate as their data sources. These sources rely on human data entry, and we all know there is a lot of room for human error.
So, with that said, we can agree that the report you get from CarFax or AutoCheck will be as thorough as possible, given the data sources available.
Why would you buy a vehicle report?
True, vehicle reports are reasonably easy to get for free. Online sites that list pre-owned vehicles like Edmunds, AutoTrader, and Cars.com are CarFax listing sites where the vehicle report is just a click away and costs nothing. And all of the vehicles listed on DriveTime come with a free AutoCheck report.
But what about small, used car dealerships that don't list their vehicles on online venues? Maybe you find a "for sale by owner" car you like that does not have a free report. You don't want to leave things to chance. You need to do your homework and buy a report.
How do I get my vehicle report?
All of a car's important data is collected under its VIN number. If you want to purchase a vehicle report, the easiest way is to enter the VIN number into either CarFax or AutoCheck's website, follow the prompts, pay your fee, and get a report.
Price matters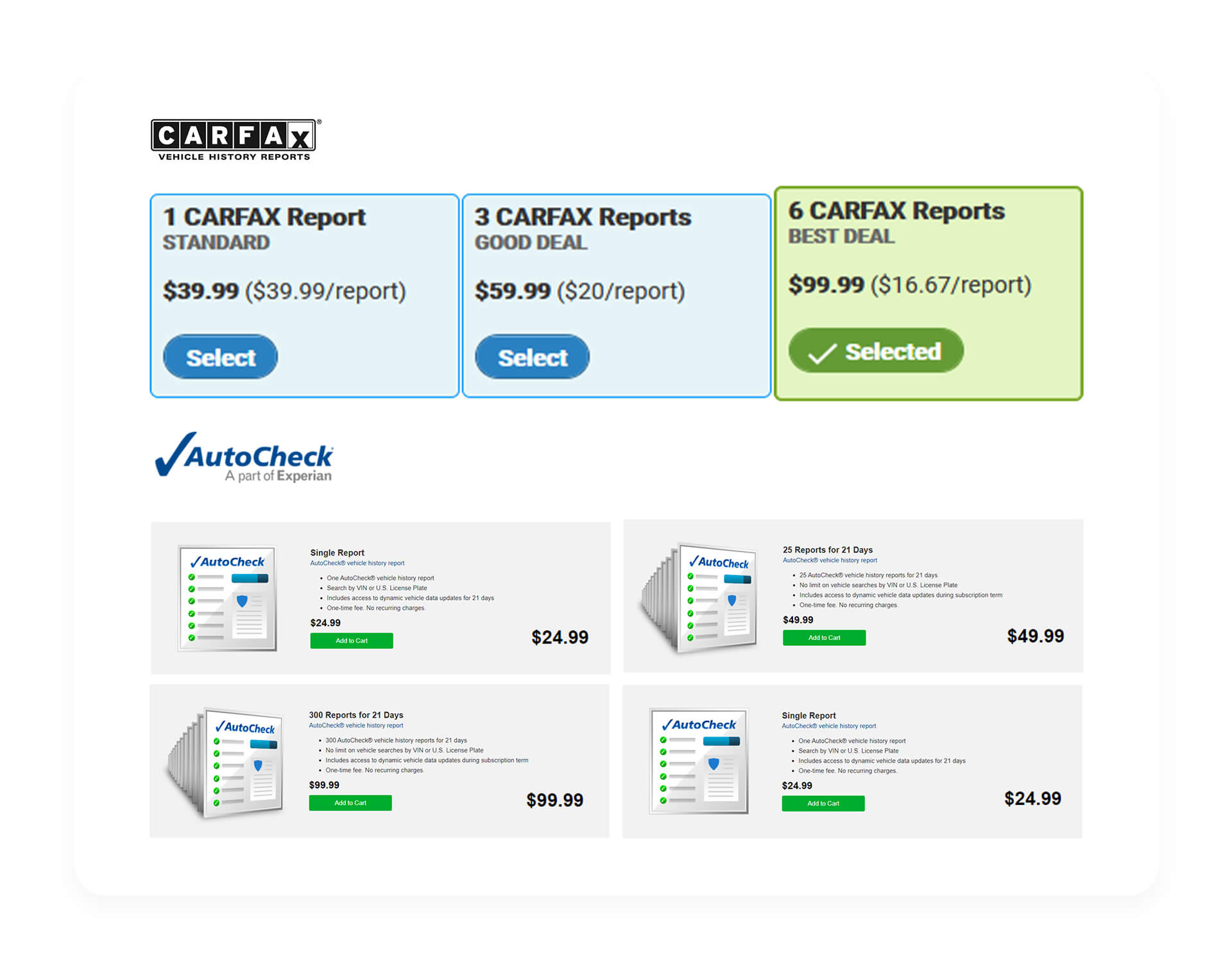 This is where AutoCheck starts to shine. A single vehicle report costs $24.99 through AutoCheck and $39.99 at CarFax. The saving grows if you think you might need more than one report.
Three CarFax reports run $59.99, but you can get up to 25…you read that right…25 AutoCheck reports in 21 days for only $49.99. If you need more than 25 reports for some reason, AutoCheck allows 300 in 21 days for $99.99. Comparably, the best Carfax can do is 6 reports for $99.99.
Alright, so now you can start to see how AutoCheck can compete with CarFax. Don't leave now. There's more.
Basic qualities of a vehicle report
Let's start by mentioning what you can expect from any vehicle report. Reports from both CarFax and AutoCheck show a detailed account of valuable information such as owner history, title history, and major accidents and damage.
But each company does a few things, just a little better. Let's take a look.
AutoCheck's cred
Even though we've established CarFax is a giant in the industry, we all know size does not always matter. What can AutoCheck possibly bring to the table in the vehicle report arena that CarFax has not already covered?
AutoCheck's main cred is exclusive access to data from two of the largest vehicle auction houses in the US: Manheim and ADESA. Any car that goes through the auction process should have data stored that becomes available on an AutoCheck report.
Where do most car lots get their pre-owned vehicles? Yep, at an auction. And if the dealer does not have a contract with a vehicle report company, you need to buy one to check-out that prospective ride. In this scenario, you will get more information for less money. Now that's smart shopping.
Another AutoCheck advantage
AutoCheck is a subsidiary of Experian, the credit reporting company. Their vehicle reports provide a vehicle "score," much like a person's credit score. This detailed information is clear and easy to understand. Here's how it works.
Each vehicle is assessed a score between 1 - 100. That score is then compared to a "range" of scores for that make, model, and year of the vehicle. The vehicle score will be either below others, within range, or above others. Obviously, your vehicle needs to be within or above range.
This information is portrayed with a speedometer type graphic, letting you clearly see where the needle points. This graphic is strategically placed at the top of the front page of the AutoCheck report. It doesn't get much easier than that.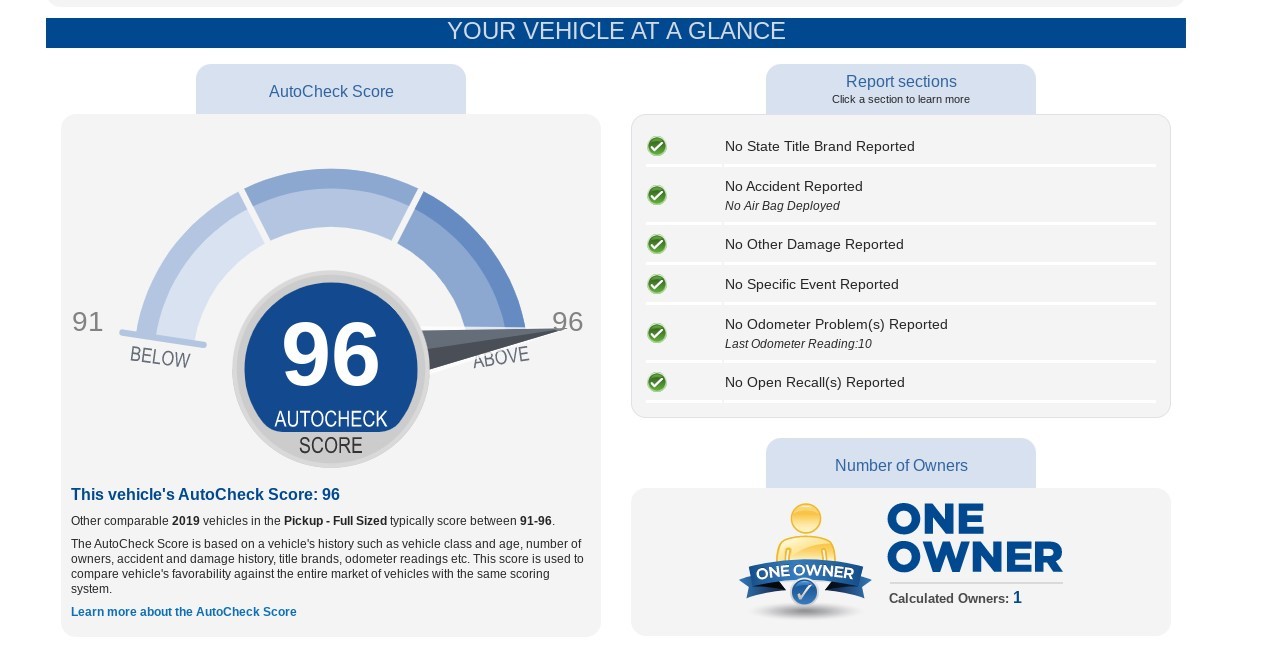 Taking a hard look At AutoCheck
What AutoCheck brings to the table is impressive. They have basically cornered the market on auction vehicle data – something CarFax has not be able to do. And don't forget, AutoCheck clearly offers more for your money. But let's take a hard look at what the industry leader provides. The popularity of CarFax can't just be a fluke.
The allure of CarFax
There's a lot to be said about being the first at anything. CarFax was the first-ever vehicle reporting company, and they have been setting the standard since 1984. Pair that status with their undeniably catchy slogan, and you have a force to be reckoned with.
The following is a list of features CarFax does really well
Buyback Guarantee: CarFax stands behind their reports by offering customers a Buyback Guarantee on qualifying vehicles. If you register your car on the CarFax site within 90 days of purchase, you qualify for this added protection against severe damage, odometer issues, and "lemon" status not detected by the CarFax report you received before your purchase.
Maintenance Dates & Records: Your CarFax report shows an organized, detailed list of maintenance dates and records, which also highlights any areas of concern, provided the service was done at a facility that reports this information. AutoCheck does not provide this detailed level of service.
Quick Check: CarFax has condensed details into 4 links that summarize the vehicle for a "quick check" of some key info. In addition to the Vehicle History Report, you can quickly browse Vehicle Highlights, Warranty Check, and the Buyback Guarantee.
Availability: Most brick and mortar dealerships have a CarFax button by every pre-owned car on their website. This means a free report on any vehicle you take a liking to. With access to all this information, most car shoppers don't bother looking for or paying for other reports.
Possible misinformation
The list above has some pretty undeniable features, but there are two details that might be confusing for consumers. At one point, CarFax seemed to have exclusive access to open recall information.
However, the AutoCheck reports do have a section that mentions either "No Open Recalls" or provides a list of recalls on the vehicle. It is worth mentioning that this section also states not all open recall information is reported to AutoCheck.

Similarly, CarFax stands behind its reports with a Buyback Guarantee, and this feature seemed to be exclusive to CarFax. AutoCheck does not have the exact policy; however, they do have Buyback Protection. Let's take a look at the differences in these two plans other than one is a guarantee, and the other is protection.
CarFax Buyback Guarantee vs. AutoCheck Buyback Protection
What's the same in both plans?
Both companies require you to register your eligible vehicle on their site to receive the offer.
Both companies provide this feature for free for one year.
What CarFax Covers
CarFax will buy back an eligible, registered vehicle if the report you received before purchasing your vehicle excluded any of the following problems that are later reported by a Department of Motor Vehicles. This offer is valid for one year.
Severe damage with the following labels
Salvage or junk
Rebuilt, reconstructed, or dismantled
Fire
Flood
Hail
Odometer problems
Exceeds mechanical limits
Not actual mileage
Lemon history: manufacturer buyback
What AutoCheck Covers
AutoCheck's Buyback Protection provides a full year of coverage for state title brands not mentioned in the report you receive prior to purchasing your vehicle. The most common brands are listed below.
Scrapped or destroyed
Damaged or collision
Dismantled, rebuilt, or reconstructed
Storm damage
Fire damage
Lemon history
Odometer problems

Exceeds mechanical limits
Not actual mileage
Putting the above lists side-by-side, I think you will agree, AutoCheck's protection is just as good at CarFax's guarantee. In fact, when we add this next bit of information, you might think AutoCheck has the upper hand in the buyback game.
What's different Between AutoCheck Buyback Protection and The CarFax Buyback Guarantee?
What good is a guarantee that can be voided? Is it really a guarantee? The following stipulation is #16 on the Terms and Conditions page of the CarFax Buyback Guarantee:
CARFAX may, at any time and without prior notice, change the terms of the CARFAX Buyback Guarantee or discontinue the CARFAX Buyback Guarantee.
Well, I don't know about you, but now I'm not feeling so confident about CarFax's definition of guarantee.
AutoCheck, on the other hand, claims they stand behind their reports 100% and will honor the terms of their Buyback Protection under all circumstances. This level of confidence is reassuring on a couple of levels.
For one, it tells the consumer that AutoCheck does real work getting their reports right. It also reassures consumers that their buyback agreement will be honored.
AutoCheck bonus feature
But wait! That's not all. AutoCheck gets over-achiever status by adding the following feature to their Buyback Protection.
Buyback Protection includes aftermarket items such as accessories and warranties added to the vehicle after it was manufactured. The other guy's guarantee does not cover aftermarket items.
Caution! Buyer beware
Both CarFax and AutoCheck deliver organized, easy to read information with color graphics that pop. As good as these vehicle reports look, remember, there is a lot of room for human error. This means some information may have been misreported.
This also means not all mechanics and body shops report the work they do. As a result, the maintenance history and these repairs may be left off of your report.
Best practices for buying a used vehicle include having a certified mechanic do a pre-purchase check. Vehicle reports are a valuable tool for all pre-owned vehicle buyers, and mechanic checks are a must, as well.
Points to review
Here's the bottom line…
CarFax has been providing pre-owned vehicle specs since it founded the industry nearly 40 years ago. It will probably always be a dealer favorite simply because of its reputation.
When a buyer gets serious about a vehicle, they say, "Show me the CarFax." Thanks to this killer ad campaign, we have come to recognize a vehicle report as a CarFax in the same way we identify a tissue as a Kleenex. This ingrained perception is not easily unlearned.
However, if you need a vehicle report not provided for free by a dealer or online, the best value is AutoCheck. You will receive practically the same information that comes on a CarFax report at a much better price point.
And don't forget, chances are the vehicle you want has been sold at auction somewhere. Only AutoCheck has access to valuable data from the two largest vehicle auction houses in the US.
True, "Show me the AutoCheck" doesn't pack the same punch as "Show me the CarFax." Maybe AutoCheck will up their advertising game and give that cute little CarFox mascot a run for his money. But even if they don't, there's room in the market for what AutoCheck brings to the table.